The Index of Social Health
The Index of Social Health, the centerpiece of the Institute's work, monitors the social well-being of American society. It has been released annually by the Institute (formerly the Fordham Institute for Innovation in Social Policy) since 1987. Like the Index of Leading Economic Indicators or the Gross Domestic Product, it is a composite measure that combines multiple indicators to produce a single number for each year.
The Index of Social Health is based on sixteen social indicators. These are: infant mortality, child abuse, child poverty, teenage suicide, teenage drug abuse, high school dropouts, unemployment, weekly wages, health insurance coverage, poverty among the elderly, out-of-pocket health costs among the elderly, homicides, alcohol-related traffic fatalities, food insecurity, affordable housing, and income inequality.
The premise of the Index is that American life is revealed not by any single social issue, but by the combined effect of many issues, acting on each other. In looking at social problems that affect Americans at each stage of life—childhood, youth, adulthood, and the elderly—as well as problems that affect all ages, the Index seeks to provide a comprehensive view of the social health of the nation.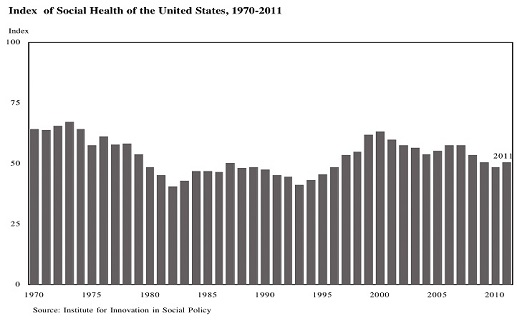 Click here to view the numerical data as a table.
Most Recent Findings
In 2010 (the last year for which complete data are available), the Index of Social Health stood at 48.8 out of a possible 100—down 2.2 points from the previous year and 9.5 points from the most recent peak in 2007. This score is the lowest in fourteen years. Overall, between 1970 and 2010, the Index declined from 64.7 to 48.8, a drop of 24.5 percent.
The recent decline of the Index reflects, among other things, the impact of the economic recession that hit the country in late 2007. Although the recession officially ended in 2009, social indicators often take longer to recover, so we expect to see further declines in the Index when complete statistics for 2011 become available.
Indicators
The Index of Social Health is composed of sixteen indicators. Grouped by stage of life, they are as follows:
Children
Adults
All Ages
Infant mortality
Child abuse
Child poverty
Unemployment
Weekly wages
Health insurance coverage
Homicides
Alcohol-related traffic fatalities
Food insecurity
Affordable housing
Income inequality

Youth
Elderly
Teenage suicide
Teenage drug abuse
High school dropouts
Poverty, ages 65 and over
Out-of-pocket health costs, ages 65 and over

The performance of the indicators since 1970 shows the following pattern:

Progress
Lack of Progress
Seven indicators have improved since 1970:

Infant mortality
High school dropouts
Teenage drug abuse
Poverty, ages 65 and over
Homicides
Alcohol-related traffic fatalities
Affordable housing

Nine indicators have worsened since 1970:

Child poverty
Child abuse
Teenage suicide
Unemployment
Weekly Wages
Health insurance coverage
Out-of-pocket health costs, ages 65 and over
Food insecurity
Income inequality
Click here for indicator Definitions and Sources for 2010 Index of Social Health.